INVEST Fellowship Programme
INVEST Fellowship Programme Autumn 2021 Call is now open!
What is an INVEST fellowship?
INVEST fellowships are 1-3 (or up to 6) months visits to the flagship to collaborate with our researchers and projects organised under the research themes. Fellowships are targeted to researcher from post-doctoral studies onwards who want to visit the flagship. Before applying, please email the INVEST-PI who would host you to let them know you are applying to join their team. PI's are listed in the application form.
INVEST will cover travel, accommodation for the fellow (in University of Turku housing organized by us) and a 500€ / month top-up on your salary. Any additional costs need to be agreed with INVEST.
INVEST welcomes applications from all countries.
INVEST Fellowship Programme Autumn 2021 Call is now open. Please apply by the 6th of December 2021 via our application form. CV and publication list need to be attached to your application in the form.
New USA co-operation programme
For scholars from the USA, we have a new cooperation programme in the fields of Welfare State and Inequalities. Within this programme INVEST can cover fellowship visits for research cooperation with the same conditions as the INVEST Fellowship.
If you are considering applying for INVEST fellowship and are from the USA, please contact us at invest@utu.fi. You can apply for a USA co-operation programme visiting fellowship by the 6th of December 2021 with the same application form.
The Inequalities, Interventions, and New Welfare State (INVEST) aims at increasing wellbeing of Finnish society during childhood, youth and early adulthood and preventing psychosocial risks compromising such development through innovative interventions. INVEST will provide a new model for the welfare states that is more equal, better targeted to problem groups, more anticipatory as well as economically and socially sustainable. INVEST is an Academy of Finland Flagship and a Joint Research Center.
Experiences of a fellow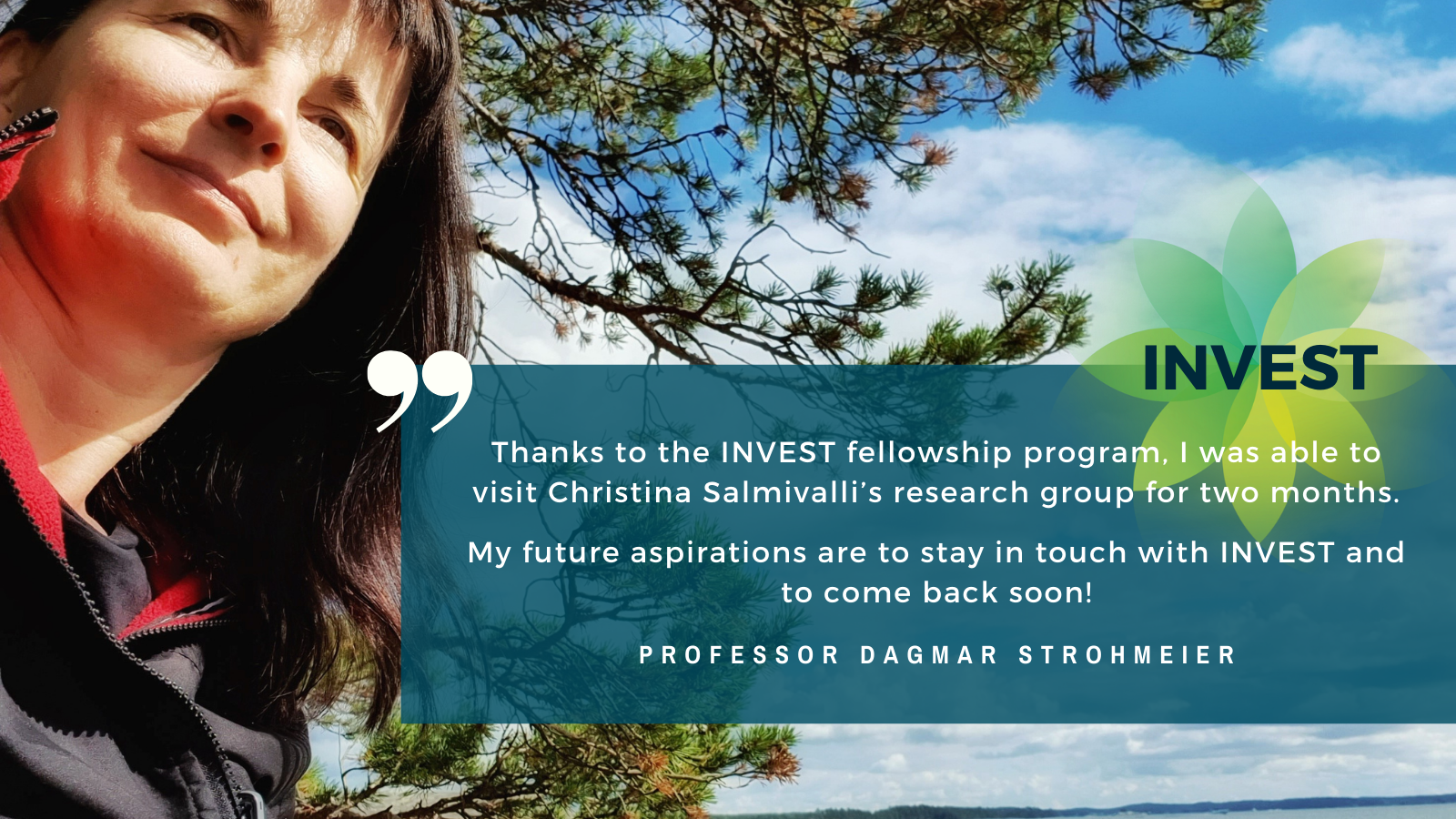 Professor Dagmar Strohmeier visited INVEST in 2020:
"The core of my research centres on the question, what schools can do to realise fair life-changes to all young people, including immigrants and refugees in particular. My mission is highly related with the question of how a future welfare state ideally could look like.
Thanks to the INVEST fellowship programme I was able to visit Christina Salmivalli's research group for two months. The highlights of my stay were the Lapland research retreat, the inspiring discussions during the weekly online research seminars and the personal meetings I had in Turku and Helsinki.
My future aspirations are to stay in touch with INVEST and come back soon!"