INVESThub
INVESThub is a new platform for social experiments and interventions
INVESThub strengthens the research of interventions and social experiments within the INVEST Research Flagship. INVESThub strengthens the delivery of evidence-based interventions in early life. Cutting-edge research on the conditions and mechanisms involved at different periods of development enables our researchers to evaluate and develop various universal and targeted interventions to improve the efficiency of the current welfare state institutions at critical points in early life.
INVESThub is based on cutting-edge research in INVEST Research Flagship Centre and in PALO project and PCRClab, which both study decision-making. INVESThub is an unique new collaboration which combines the experimental decision-making research with the welfare state research made at the INVEST Research Flagship Centre.
Recent news and updates
News and recent updates
INVESThub piloted a new workshop concept for social experiment research. In these workshops, our aim is to invite people to present their research plans and brainstorm together how to improve research processes and build up a successful background for issues such as collecting data etc.
The goals of the Workshops are:
1) To strengthen the academic community working with experimental designs at the very early stages of the experimental designs.
2) Particularly, to provide instances of discussion and debate of experimental designs that have not yet been fielded. Ws focus on experiments that have not yet fielded. Hence, researchers come to our Ws to seek comments before their designs are implemented in the field or lab.
In this very first workshop arranged 10th of October, Elina Aaltio & Nanne Isokuortti introduced their new project (Taitava – Skillful) Enhancing effectiveness in child protection by strengthening social workers' communication skills in Finland. The workshop was very succesful and fruitful. The prensenters got good ideas as well as the participators in audince for their own projects. Workshop opened also a doors for cooperation. To be mentioned, our masters students took actively part in the workshop as well.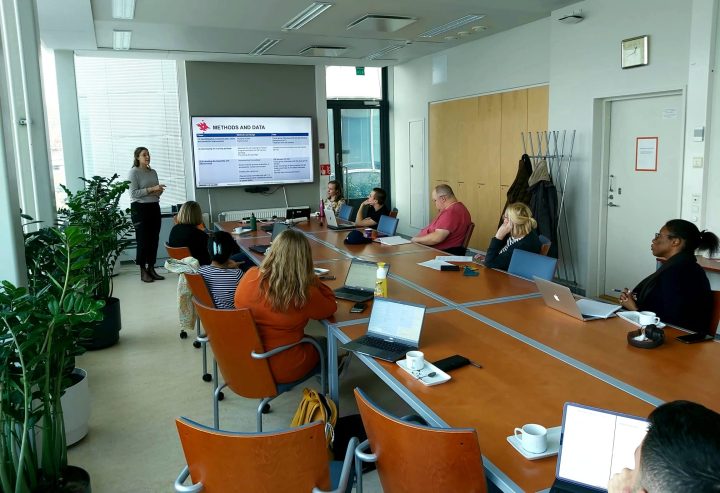 INVESThub Brown Bags series
At the INVESThub we have launched a series of monthly "INVESThub Brown Bags" in which we gather around informal yet committed presentations. The objective is to strengthen the research community interested in experimental work by sharing ideas, comments and questions.
INVESThub Brown Bags Programme 2022
Session: 28th of April 11:00-12:30
Session: 2nd of June 11:00-12:30
Session: 18th of August 11:00-12:30
Session: 29th of September 11:00-12:30
Session: 27th of October 11:00-12:30
Session: 24th of November 11:00-12:30
Session: 15th of December 11:00-12:30
PI's of the INVESThub