DPInvest
Doctoral Programme in Inequalities, Interventions and New Welfare State
About this degree
The Doctoral Programme in Inequalities, Interventions and New Welfare State is a cross- disciplinary, international PhD programme aimed at educating specialists on these topics in social and behavioural sciences. It is located in the INVEST Research Flagship Centre, the only Finnish research flagship in social and behavioural sciences, and utilizes its world-class social and behavioural scientists for teaching and supervising students.
The candidates of the Doctoral programme pursue studies either in the Faculty of Social Sciences or in the Faculty of Medicine and supports training in the fields of social and behavioral science and other closely related research areas.
Learning outcomes
The expertise and know-how of a doctoral candidate will develop in the following areas during the doctoral training period:
Social inequalities
Child and youth development in context
Welfare state services, benefits, and policy processes
Population and family demographics
Child and adolescent epidemiology
Prevention and intervention research
Advanced statistical methods
Causal inference and non-lab experiments
The degree includes obligatory studies (20-30 ECTS), optional studies (10-20) ECTS) and the doctoral dissertation (200 ECTS). Obligatory studies include taught courses, seminars, multidisciplinary thematic workshops and mobility studies. The doctoral programme also includes specialized methods training and other specialist studies (support scientific and professional skills).
Obligatory studies 20-30 ECTS:
Ethics of Academic Research, 2 ECTS
The course provides tools for critical, systematic ethical reflection and resolving complex research ethical questions. The doctoral candidates will learn the central ethical questions and principles in academic research. They will be able to avoid scientific misconduct and questionable research practices in their own research and carry out ethically excellent research.
DPINVEST Seminars, 2 ECTS
The INVEST seminars provide the opportunity for researchers of INVEST (doctoral candidates, postdocs and professors) to present their own research, drafts of their manuscripts and get feedback from researchers. The INVEST seminars allow for the presentation and exchange of ideas across the different faculties. Seminars are held in English.
Thematic Workshops, 2-10 ECTS
Each year the thematic workshop will invite leading experts in the disciplines related to INVEST to present their work. The aim is to provide early career stage PhD researchers with the opportunity to discuss their work with more senior researchers working on similar topics to INVEST, to extend the international research network of PhD candidates and postdoctoral researchers and to build international research collaborations at the more senior levels.
Research Proposal and Research Proposal Workshop, 0 ECTS
The research proposal and research proposal workshop are designed to prepare students for completing a PhD in DPInvest. The proposal will be a living document and should provide the groundwork for the theoretical foundation/act as a benchmark for the further development of the thesis. Additionally, the proposal is to be structured in a similar way to funding proposals providing practice for funding applications in a future research career.
(Mobility studies, 2-10 ECTS)
All students of DPINVEST are required to attend and/or participate in at least two internationally targeted conferences in Finland including those hosted by participating departments of UTU or abroad.
Postgraduate studies in DPInvest I:
The core theoretical content and literature of the INVEST (students must choose at least one)
Comparative Welfare State, 5 ECTS
All societies need some form of social policies. The form and extent of state interventions vary in time and place. In modern market economies, various market failures make welfare states necessary and important to ensure social security in situations where other forms of economic and social support fail to guarantee basic livelihood and decent life.
Despite similar challenges national welfare states have applied different institutional solutions against social risks as old-age, sickness, unemployment and disability.
The aim of the course is to provide understanding how and why welfare states in the North and South, in the West and East operate: which kind of institutional solutions are used in different countries, how countries cluster in terms of the welfare institutions, how different institutional solutions work and which kind of outcomes they produce.
The course is divided in three thematic blocks: 1) Introduction to the welfare state and its institutions, 2) Family policy, gender politics and gendered welfare state regimes, and 3) Outcomes of different welfare state solutions. The course is based on a list of readings, introductory lectures, thematic seminars and essay writing. After the course, the student understands how welfare states operate, what the main data sources are for studying them, and how to draw relevant information from the data and interpret the findings
Research Themes of INVEST - introductory, 5 ECTS
The objectives of this course are to introduce the topics, themes and subprojects of the INVEST flagship project. The student is expected to participate in 6-8 lectures delivered by the principle investigators and senior researchers of INVEST. The students will also participate in three seminars where they will design an intervention working together in smaller groups.
Prevention and Intervention, 5 ECTS
This course provides an introduction to the new and expanding field of prevention science, which involves the systematic study of interventions to decrease maladaptive behaviour and their consequences, as well as promote healthy, adaptive behaviours. The course consists of lectures and seminars. During the seminars, students will get to apply knowledge gained from the lectures by designing their own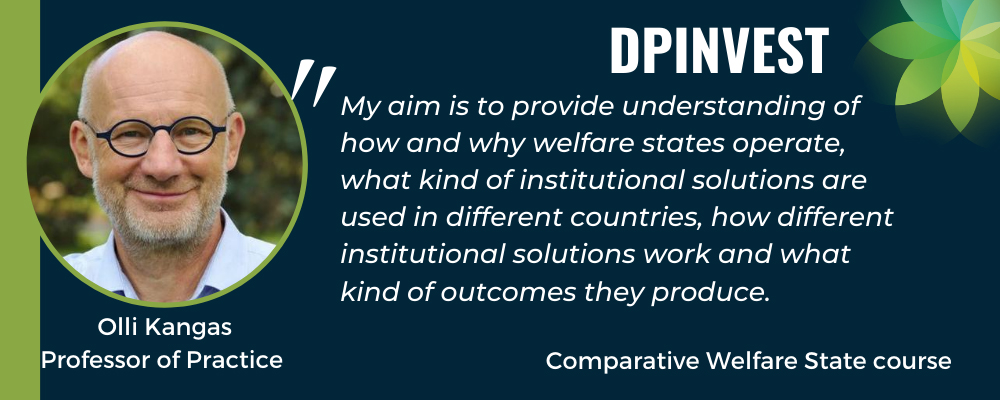 Postgraduate studies in DPInvest II:
Introduction to the research methodology of INVEST (students must choose at least one)
Longitudinal and Multilevel Modelling, 5 ECTS
This course describes how to manage, describe, and model longitudinal (and multilevel) data as it pertains to the types of research carried out in the social sciences. It offers practical experience with real world examples and an overview on the estimation of models for continuous and categorical dependent variables, focusing either on the level of these variables at different points in time or on their change over time including fixed and random effects models and event history models. The course is realized as both lectures and as guided Stata lab sessions.
Causal Inference, 4 ECTS
The course introduces key concepts for causal inference from quantitative data, and presents the main statistical methods used in sociology to tackle the problem of causality. The course consists of lectures, small assignments, discussions based on learning materials and a final exam. After the course, students will have a broad understanding on scientific thinking related to statistical and causal inference.
Social Network Analysis, 3 ECTS
Stochastic actor-based models for network dynamics are models for statistical inference for network panel data, i.e., repeated measures of a network, or of network and behaviour, or of multiple networks, on a given group of actors. By the end of the course participants will understand the principles of the stochastic actor-oriented model for network dynamics.
Optional studies, 10-20 ECTS
Demography, 5 ECTS
This course provides an introduction to demography and population studies. The lecture examples have special emphasis on family and fertility trends in Finland and other European populations and register-based research, but students will get a chance to choose a special interest topic or question that they can explore throughout the course. The course is a seminar that combines lecturing with written assignments, discussions, and presentations based on students' special interest topics.
Social Inequality, 5 ECTS
The course starts by introducing the most central concepts and debates relating to social inequality. After that students will familiarise themselves with the current debates on social inequality and deepen their understanding of a topic chosen by themselves. The course consists of lectures and seminars. After the course students will understand social scientific approaches related to social inequality and are capable of participating in academic discussion on the topic.
Migration and Ethnicity, 5 ECTS
The course consists of seminars that combine lectures, student presentations, seminar tasks and discussion.After the course, students have knowledge of global migratory movements and their causes and consequences as well as the role that ethnicity plays in society. Students understand the theories that are used in the multidisciplinary field of migration and ethnicity research and are familiar with empirical research related to these topics.
Evolutionary Perspectives, 5 ECTS
Lectures will cover topics such as reciprocal altruism, kin relationships, sex differences and personality traits. After the course, students are familiar with the basics of evolutionary thinking and recognise key concepts of evolutionary theory and its applications in different fields of science. Most importantly, they will understand how evolutionary approaches and theories can be utilised in social science research.
Peer Relations, 5 ECTS
The course deal with children's and adolescents' relations with their peers play a major role in their overall development. After completion of the course, students will be able to 1) describe key theories and basic methodology in peer relations research, 2) understand how individual characteristics of children affect their relations with peers, 3) Understand processes through which peer affiliations, peer status, and the general social context affect the behaviors and psychological adjustment of individual children and adolescents, and 4) Apply recently acquired knowledge into the writing of a conceptual review or research proposal.
Research Seminar of INVEST Psychology, 2 ECTS
Topics include peer relations, bullying, and school-based interventions. In this weekly seminar, researchers of INVEST Psychology (doctoral candidates, postdocs and professors) present drafts of their manuscripts.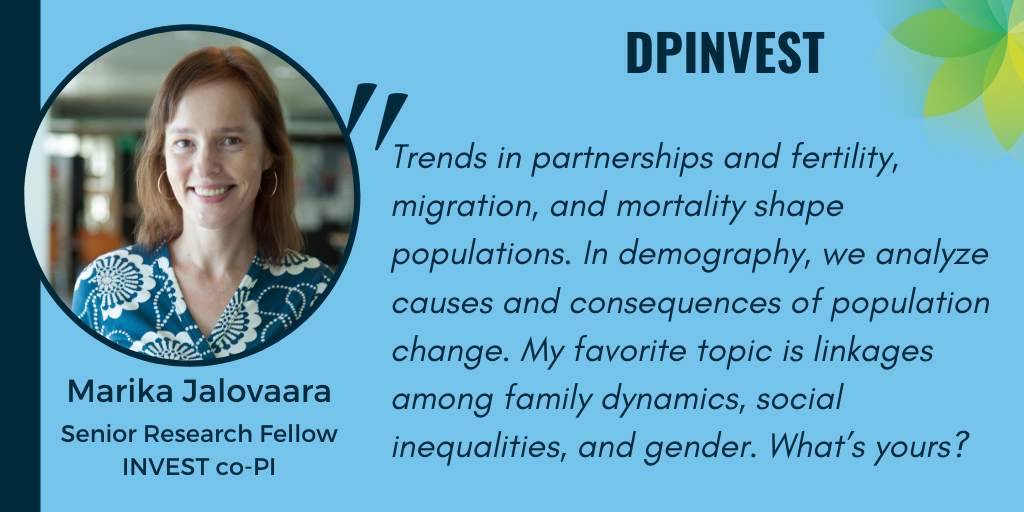 Doctoral Dissertation, 200 ECTS
Independent research work with a research plan and intermediary reports and the oral defence of the work in a public examination. A doctoral thesis should demonstrate the candidate's deep understanding of the chosen research topic, his/her ability to design and conduct research independently and to apply scientific methods to solve research problems relevant for his/her major subject.